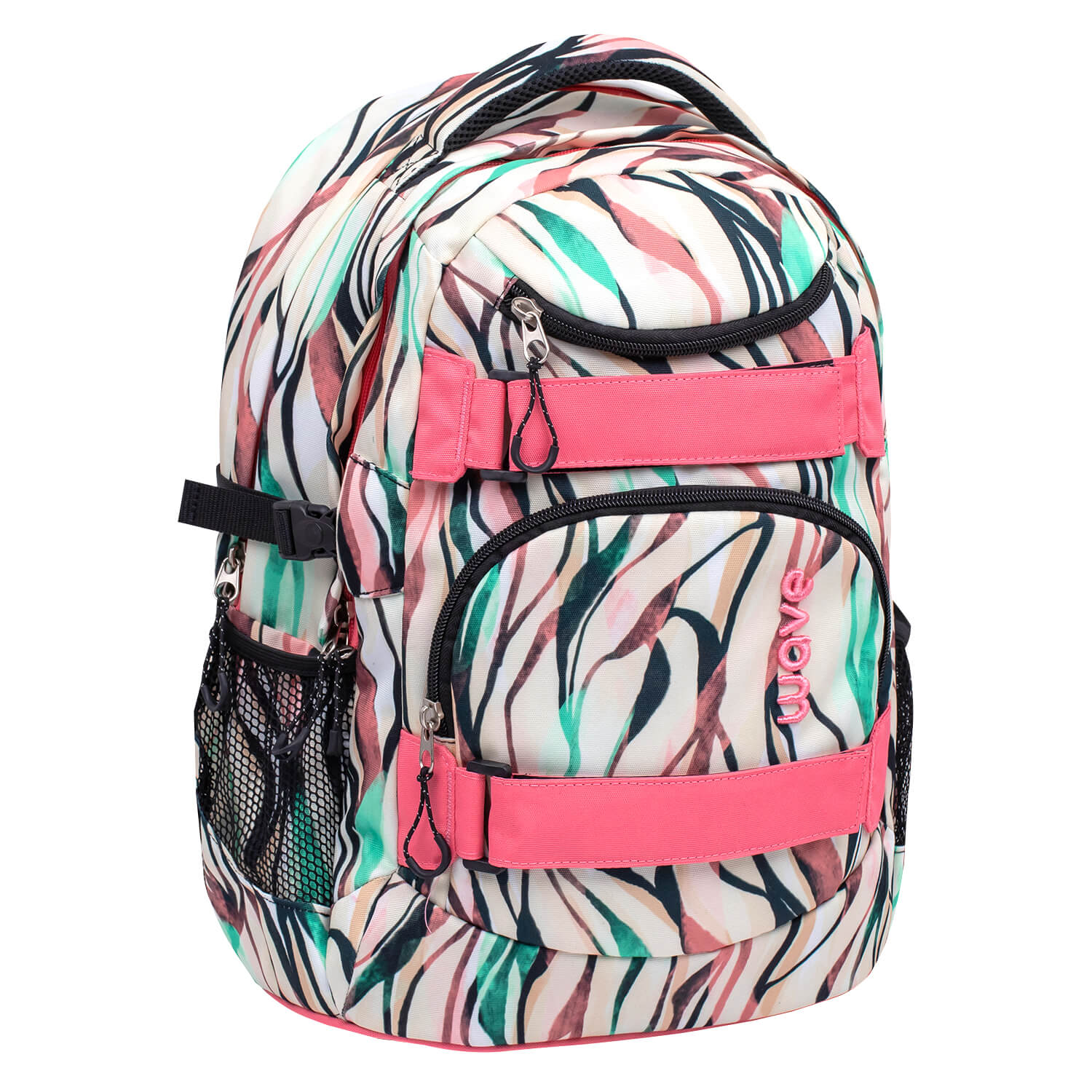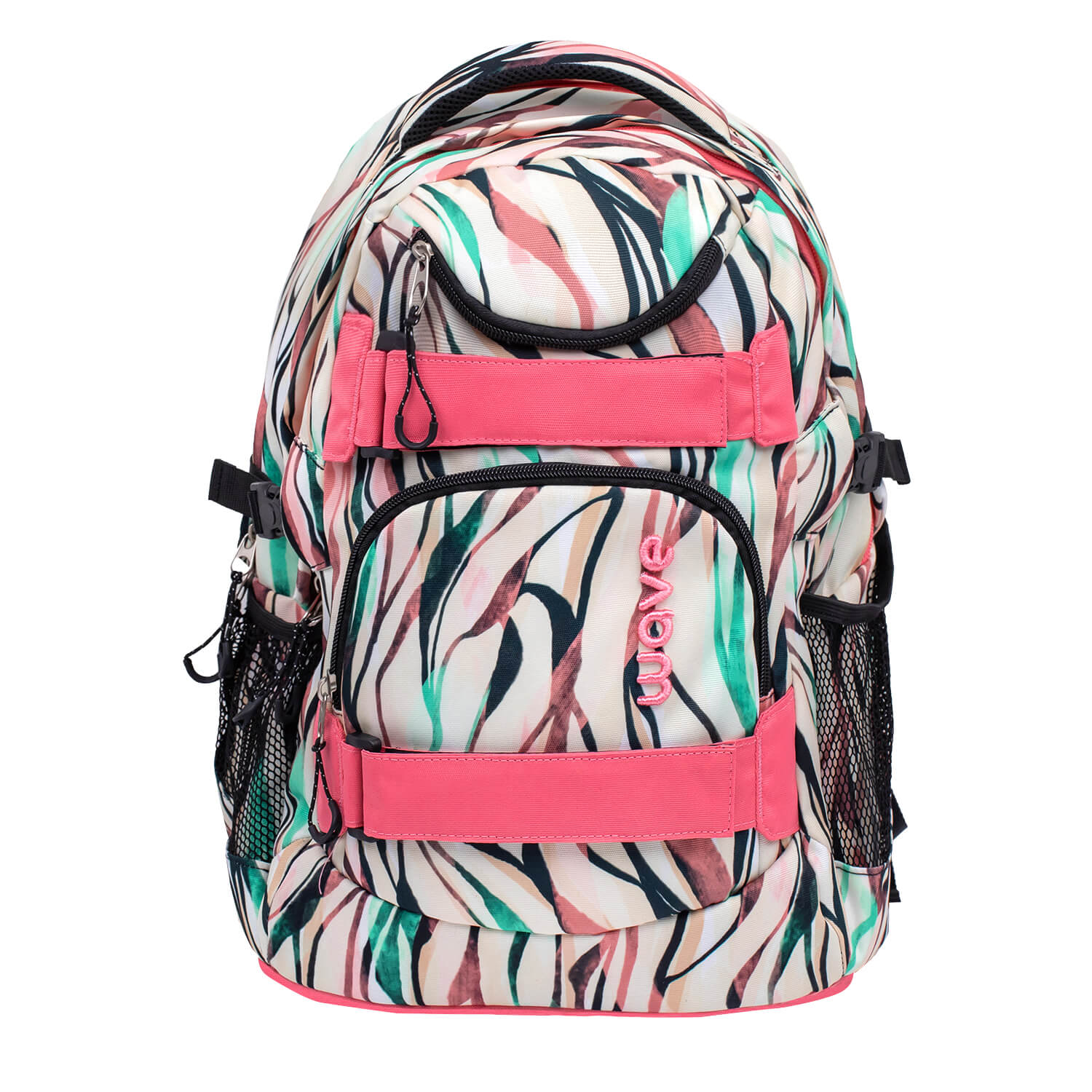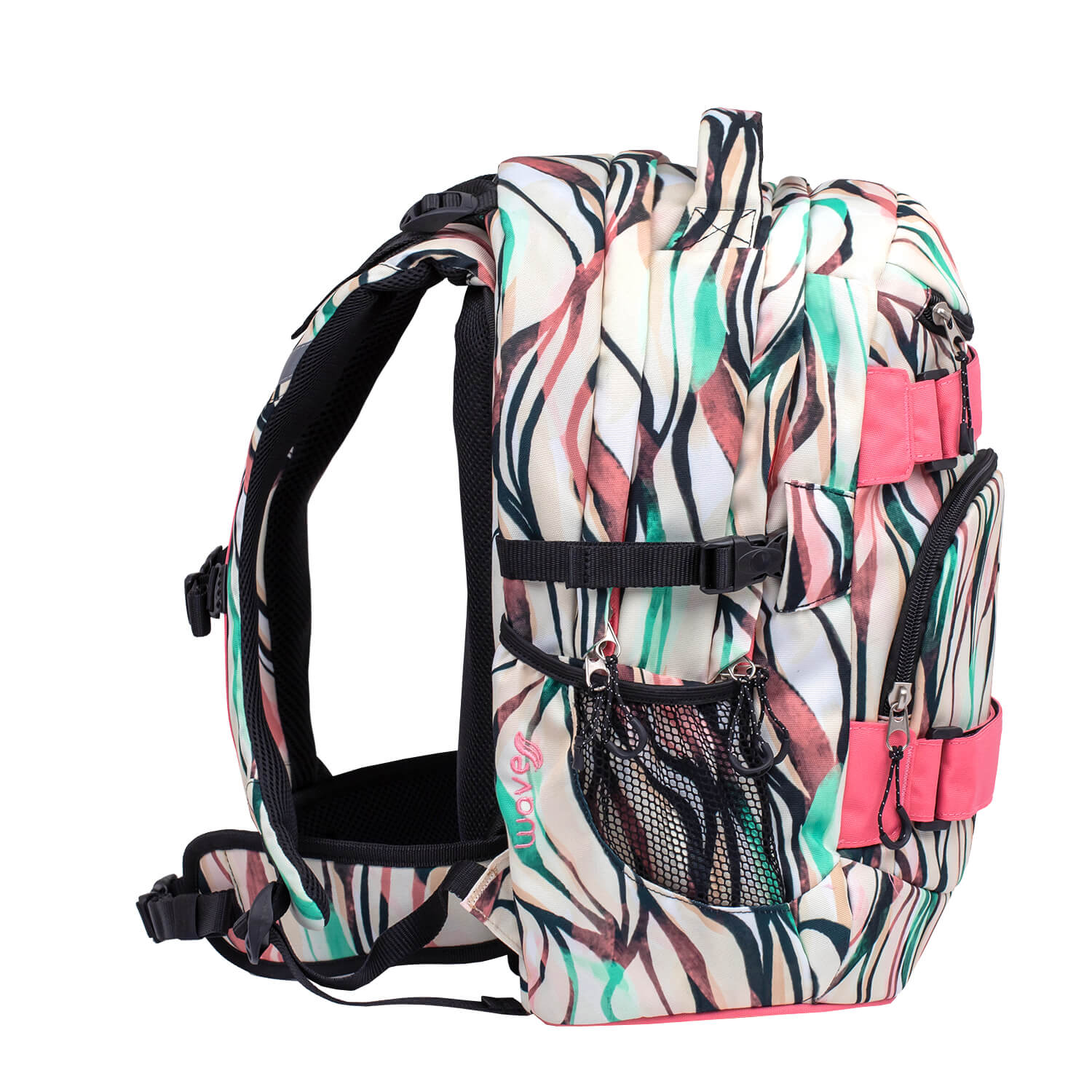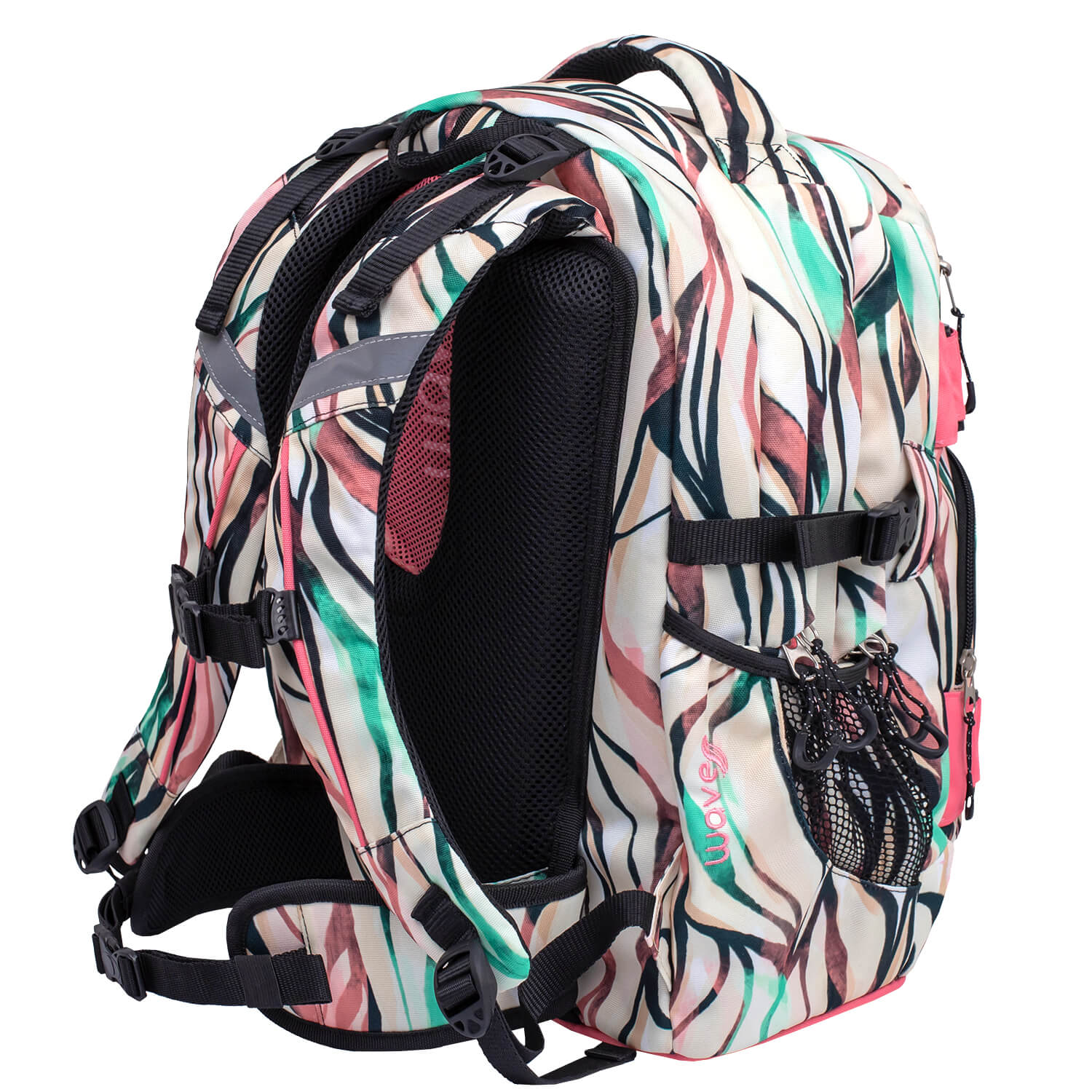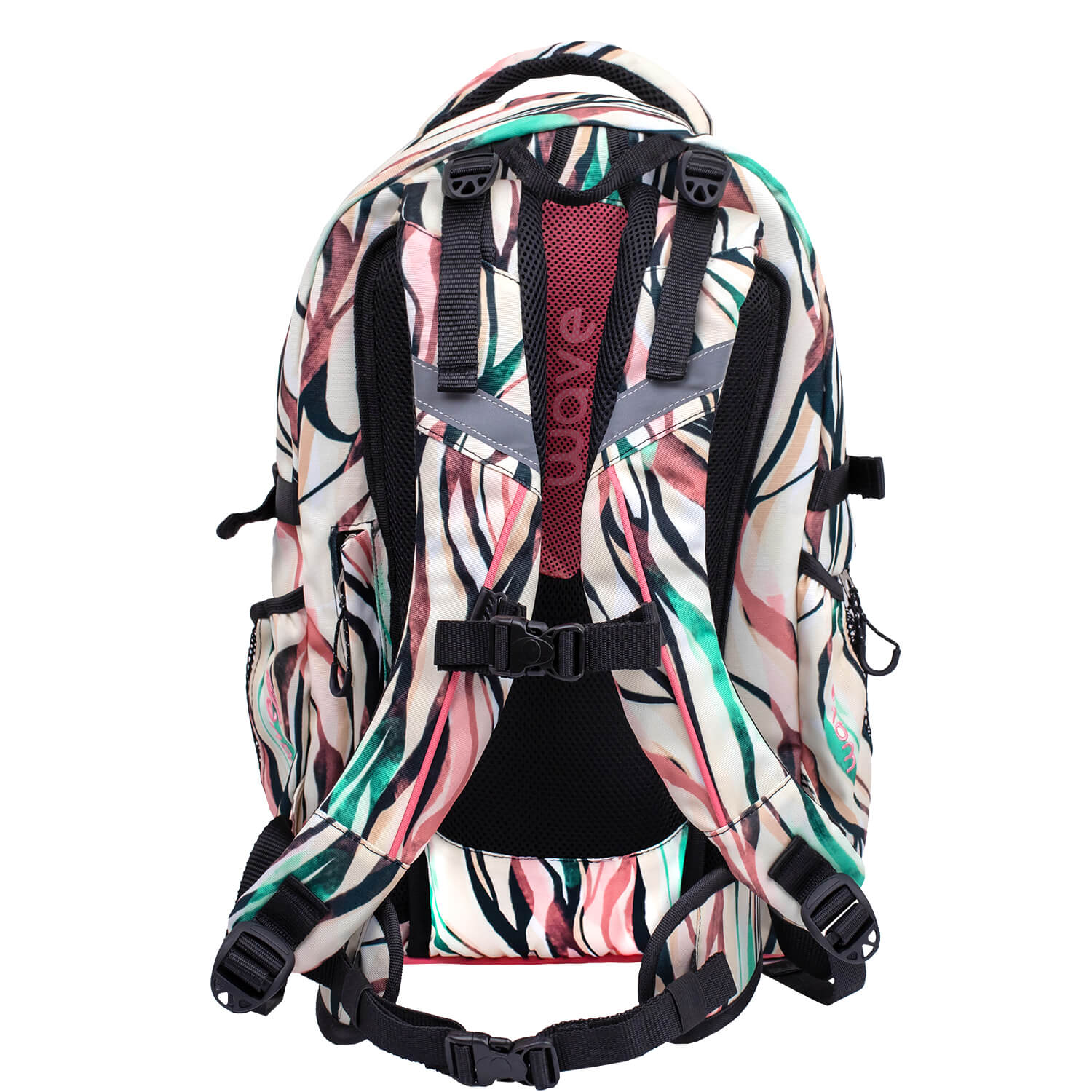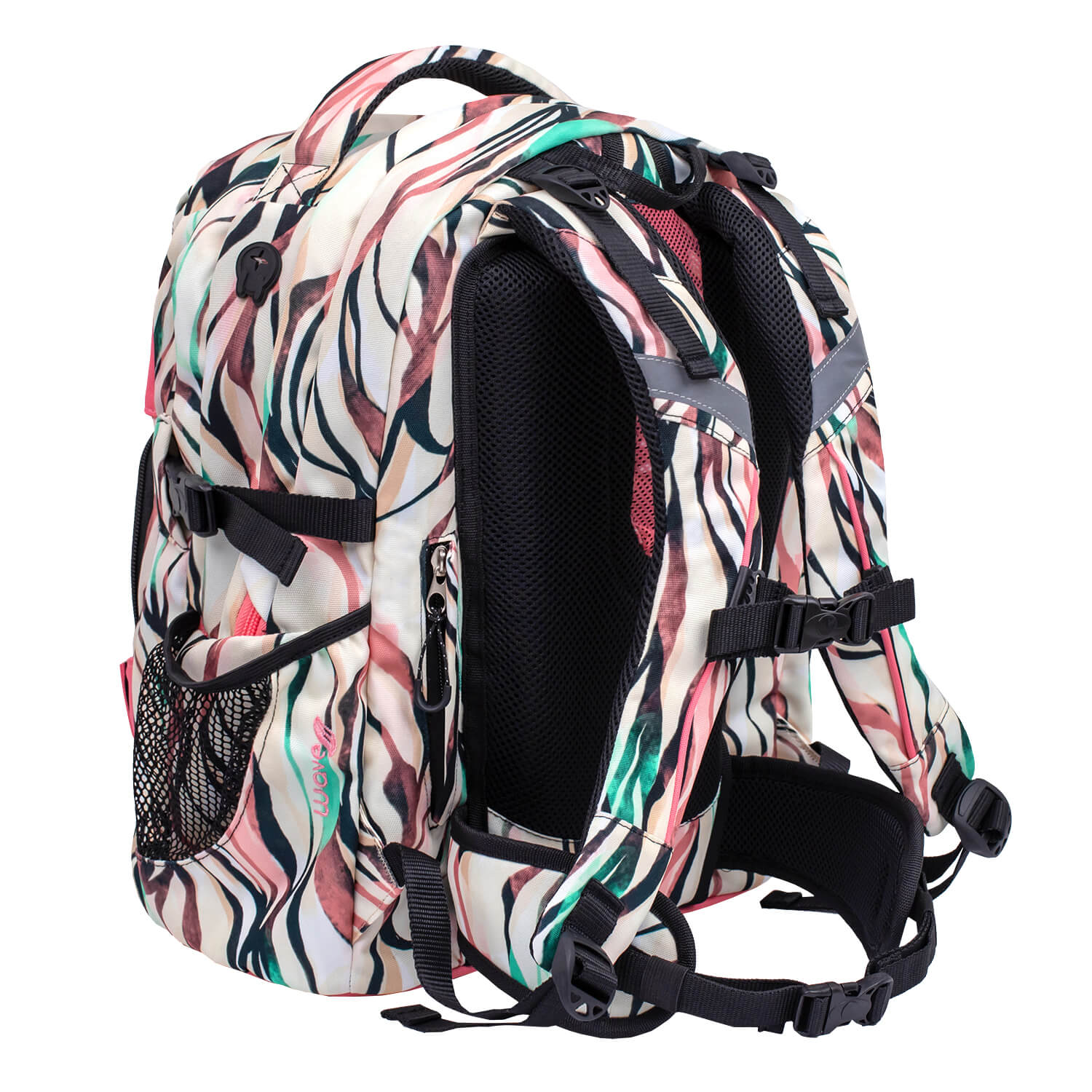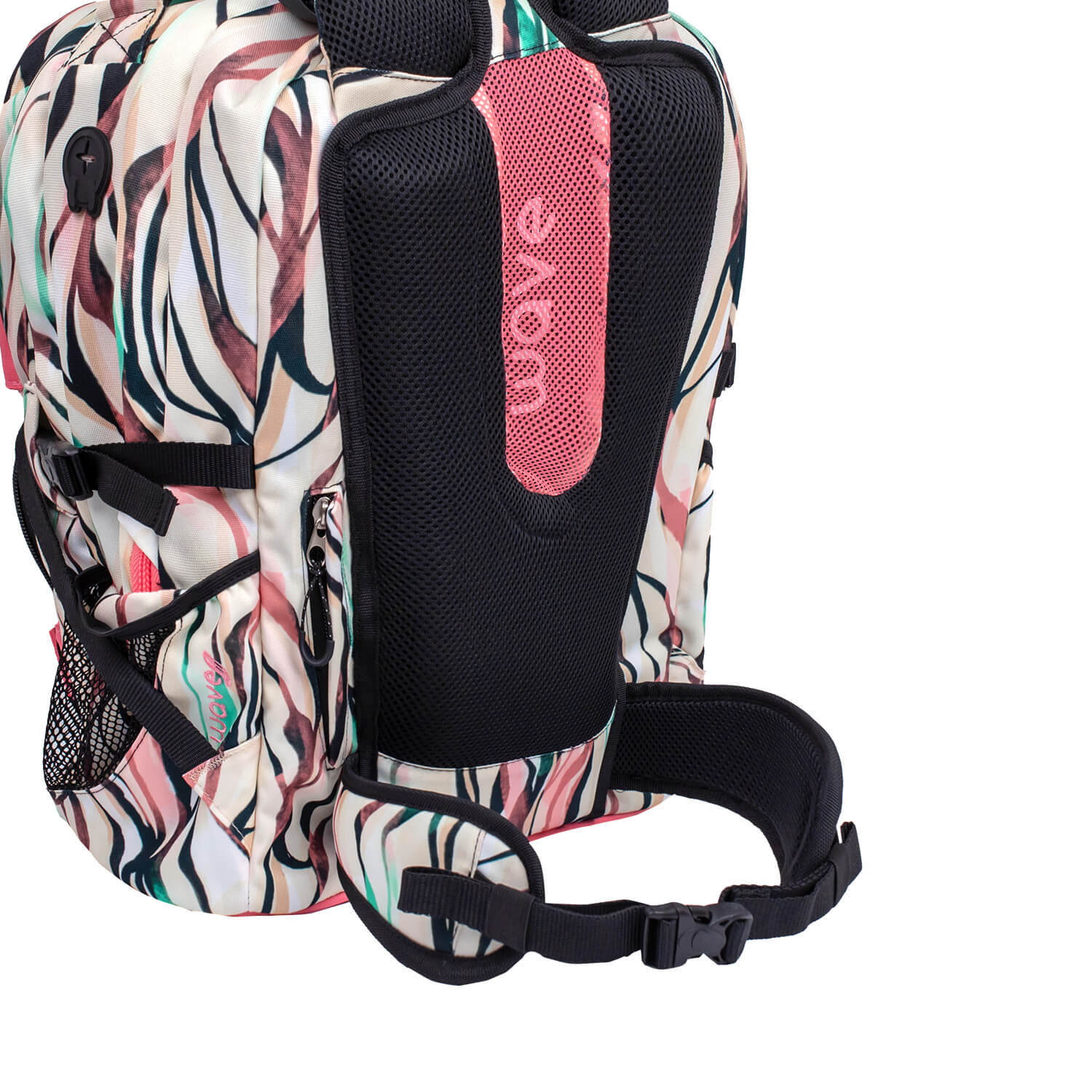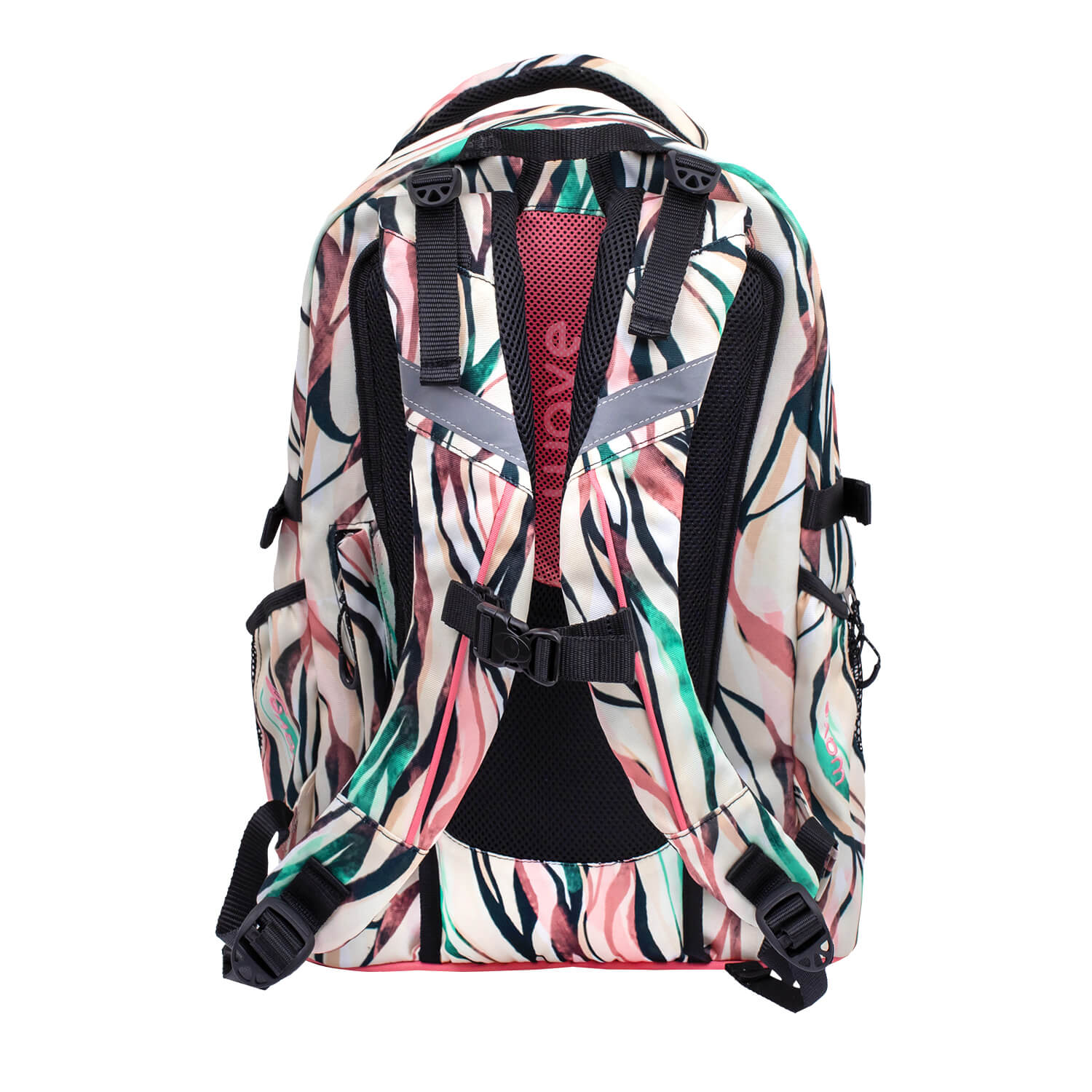 Wave Infinity Feathers school backpack Set 2 Pcs
---
Wave Infinity Backpack with pencil case - suitable for school, travel or leisure activities
Ergonomic design, breathable back padding, adjustable chest strap and padded shoulder straps
Unique and colourful pattern based designs
Two inner compartments one featuring a smaller pocket with zipper and mesh, padded laptop (15.6") and tablet (10") holders, two front pockets, two elastic side pockets with mesh for storing a water bottle (0.7 L) or an umbrella, 2 straps on the front for a skateboard or jacket, hidden pocket on the back panel
Designed and made in Europe since 1965 by a family company
We deliver free of charge to Germany for purchases over 60 Euro. If you order for less than 60 Euro, the shipping fee is 5 Euro within Germany.
DHL is responsible for the safe and fast delivery of Your order!
You can read about shipping fees for other European countries HERE!
Every product is backed with a warranty. From design to manufacturing, delivery to service, we are committed to quality. We honor a 2-year warranty on all schoolbags. If You want to see more details, clock HERE!
Free shipping to Germany from 60 Euro ;)
Specification
Introducing the Wave backpack, a dynamic design tailored for today's youth for 10+ ages. With its cutting-edge style and functionality, this backpack perfectly embodies the spirit of the modern generation. These backpacks are suitable for travel, hiking and school.
The breathable back padding, adjustable chest strap and padded shoulder straps ensure comfortable and back-friendly wear!
Our Wave bags have a unique pattern and are equipped with lots of pockets, so staying organized has never been easier. This backpack set includes a matching pencil case.
Recommended for
For children over 10 years old and adults
Ergonomics
- Ergonomic shape and breathable back padding
- Well-padded, S-shaped shoulder straps that are adjustable on two points: on top and bottom for perfect fit
- For optimal weight distribution, an adjustable chest strap is added to the bag
- Detachable hip belt
- Position control straps
Storage
Two large main compartments; one padded laptop compartment; one tablet holder; one small zip pocket; one small pocket; one secret compartment on the back panel; one power bank holder; one glasses compartment; one front pocket; two side pockets; fastening straps
Contents of package
- Ergonomic Backpack
- Pencil pouch (empty)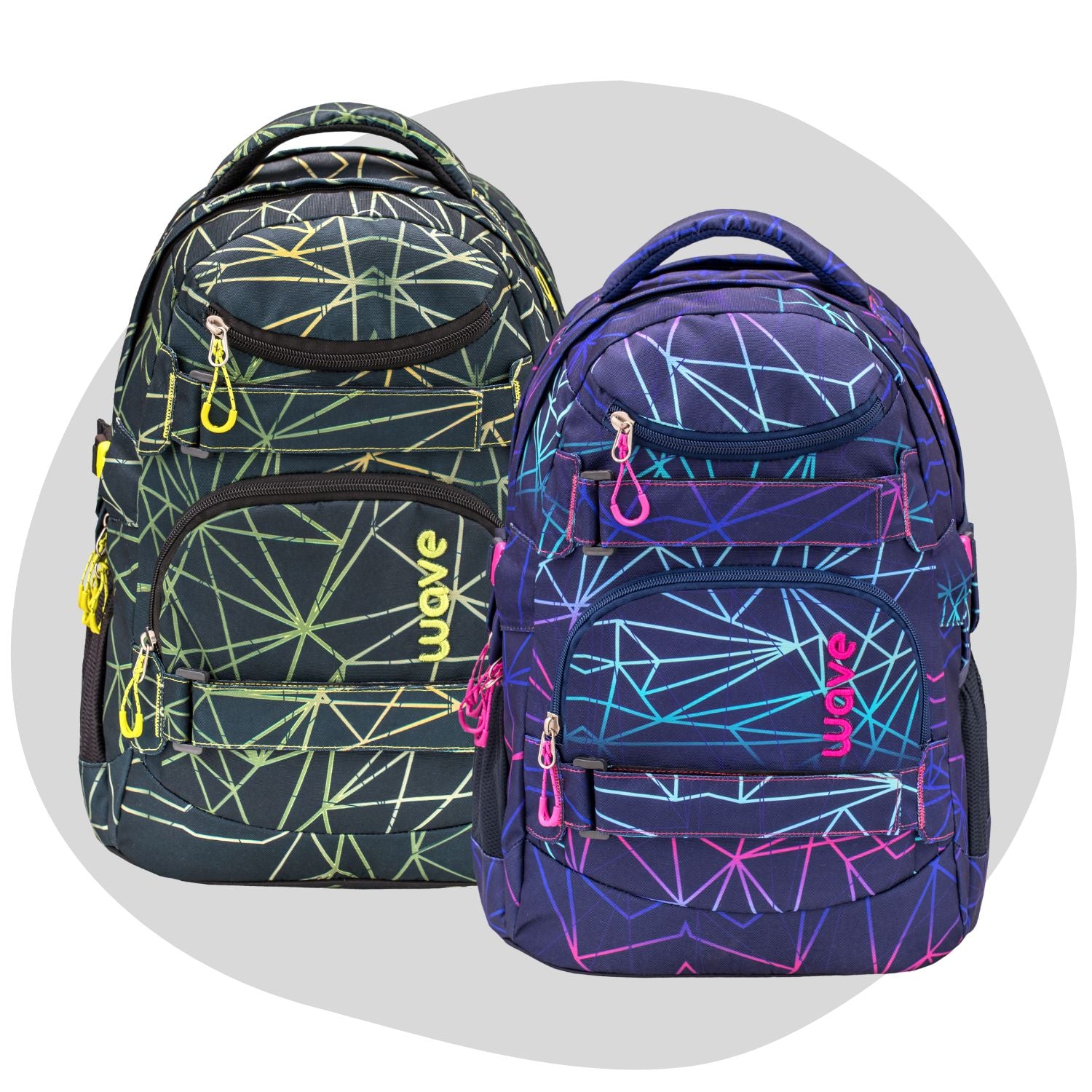 Timeless design
Introducing the timeless Wave backpack designed for today's youth: trendy, versatile, and ready to accompany you on any adventure. This backpack seamlessly blends style and functionality. With its sleek design, vibrant colors, and innovative compartments, it's not just a bag; it's a statement piece. Whether you're heading to school, hitting the gym, or exploring the city with friends, this backpack is your go-to companion.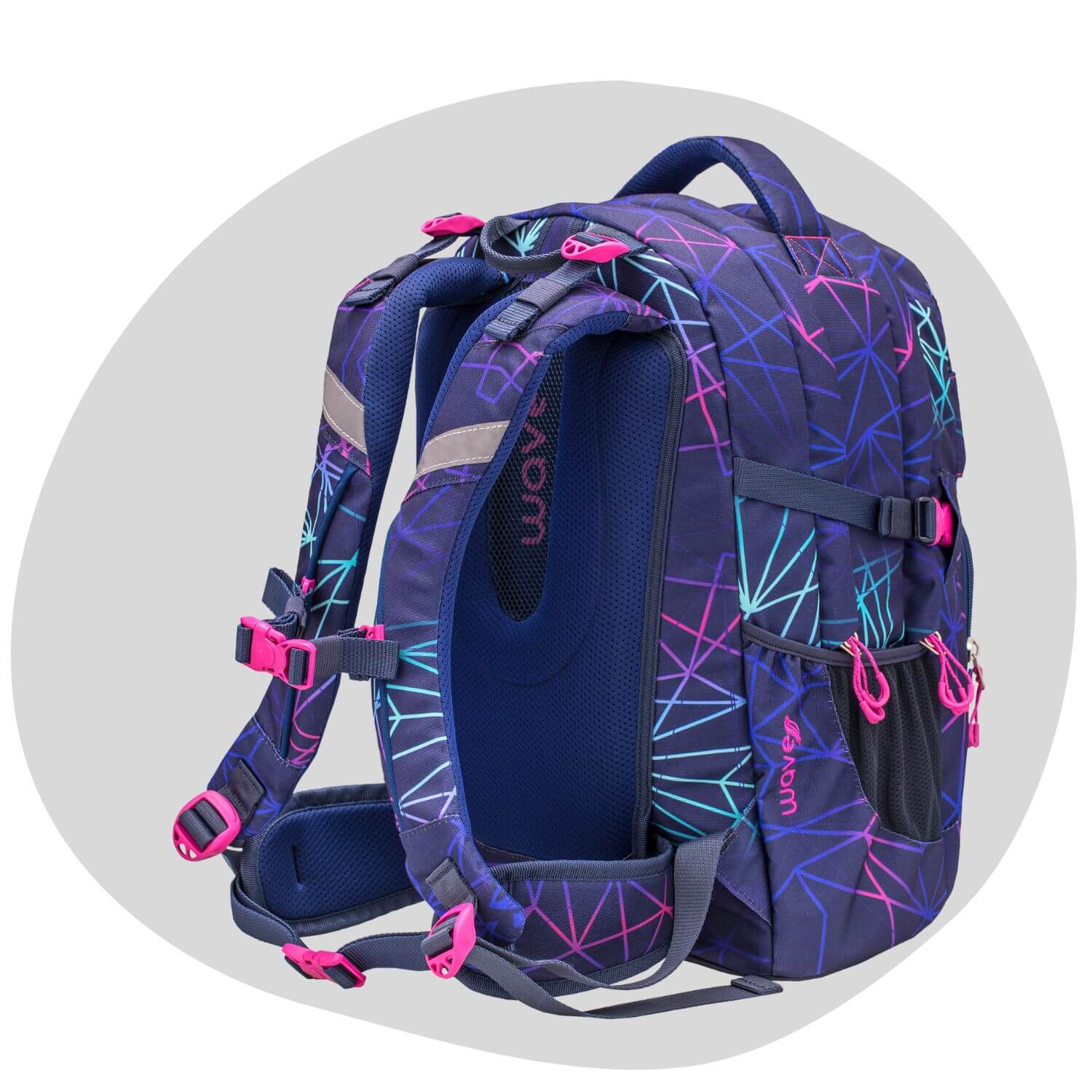 All day comfort
This backpack is designed with a focus on ergonomic excellence. Its padded shoulder straps provide optimal support, distributing weight evenly to reduce strain on your shoulders and back. The adjustable chest and waist straps allow for a customizable fit, ensuring comfort during extended wear. Its contoured back panel not only enhances airflow to keep you cool but also conforms to your body's natural curvature, promoting better posture.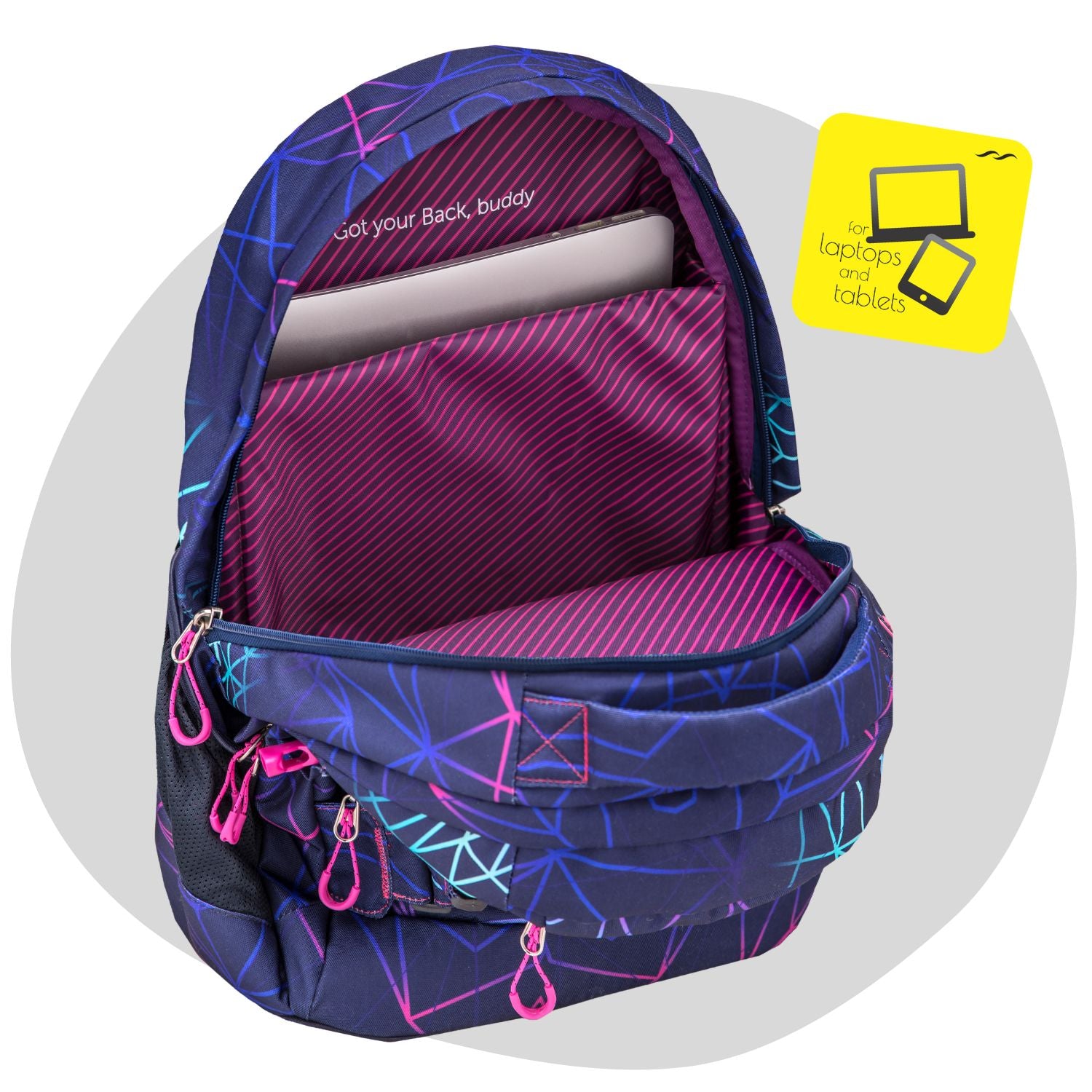 Storage
Its spacious main compartment offers ample room (30 L) for your essentials. Multiple pockets and organizers keep your belongings neatly arranged, from a dedicated laptop sleeve (15.6") and Tablet holder (10") to a special sunglasses holder. External mesh pockets are perfect for water bottles (0.7L) or snacks on the go. Additionally, the backpack features external straps for carrying a jacket or a skateboard.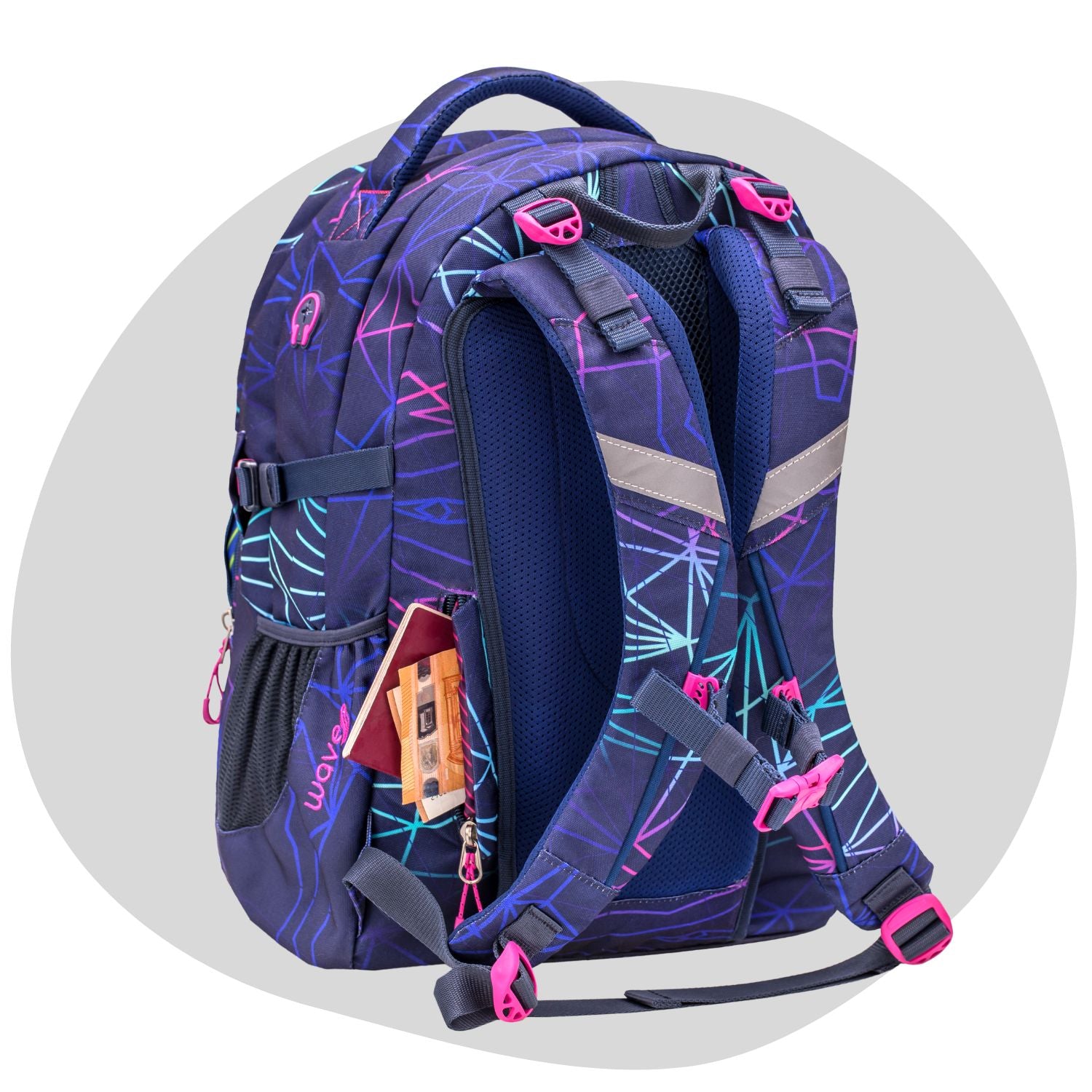 Secret pocket
Tucked away within the back panel is a hidden pocket with zipper specially designed for safeguarding your passport and other valuable documents. This concealed pocket not only adds an extra layer of security but also ensures quick and convenient access when you need it most.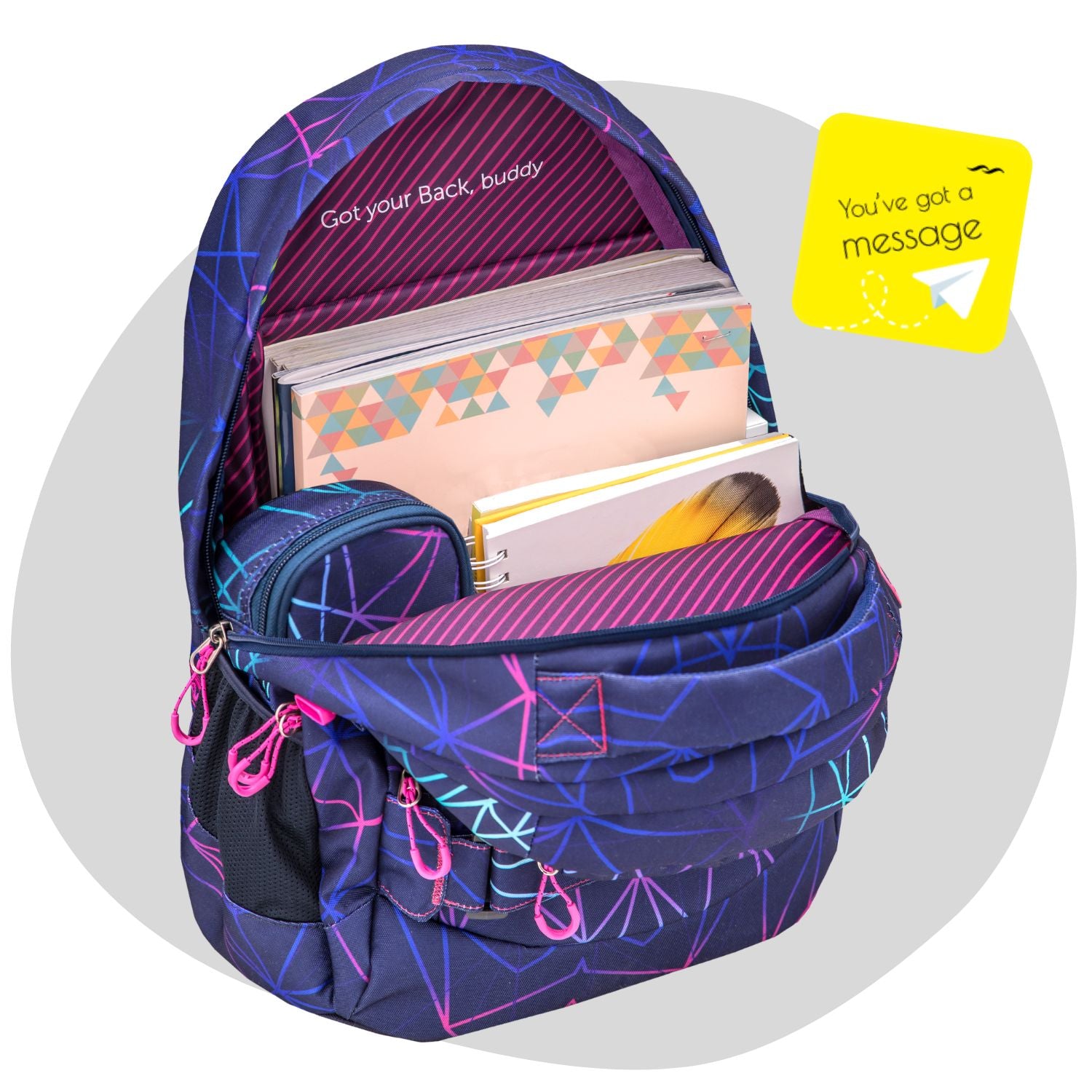 A witty message hidden ineach bag
Unzip its main compartment, and you'll discover a hidden funny message printed on the lining. This backpack doesn't just carry your essentials; it carries a smile too.


This product has no reviews yet.